Utah County, about an hour south of Salt Lake City, is a destination that's really come into its own in recent years. It's also known as Utah Valley, a place with growing corporations such as Ancestry.com, and so many tech start-ups that it's earned the nickname "Silicon Slopes." It's also studded with natural wonders, from towering snow-capped peaks reaching close to 12,000' to shining alpine lakes to mountaintop caves to lush meadows. And as a bonus, it's also filled with an array of unusual attractions.  
Here, too, are authentic "Old West" towns like Provo, Utah County's largest, with 117,000 residents. Provo's streets are lined with beautifully-preserved Western buildings, many of them locally-owned restaurants and shops. Provo's known to football fans, as well, for the legendary football tradition at Brigham Young University.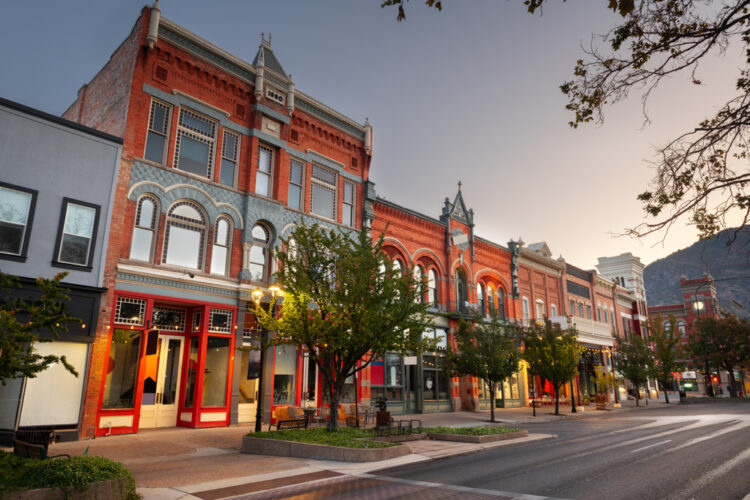 Utah Valley's filled with special spots both natural and man-made…and a unique local culture you really can't find anywhere else. There are excellent museums, cultural amenities, international cuisines here, and surprises everywhere. (And if you look hard enough in the rural areas, you might see cowboys!)
But perhaps best of all, this region's also filled with warm, friendly people who love showing you their beautiful land. The predominately-Mormon population were happy to answer my questions about their heritage and their 1,300-mile covered-wagon trek in 1847 from Illinois to Utah, along what's now called The Mormon Trail        
Small wonder, then, that local folks have a nickname for Utah Valley. They call it "Happy Valley."
ONE-OF-A-KIND SURPRISES
In the pleasant little town of Spanish Fork, you'll come across things you probably never expected to see in Utah – for example, a llama farm and a Krishna Temple. On the same site!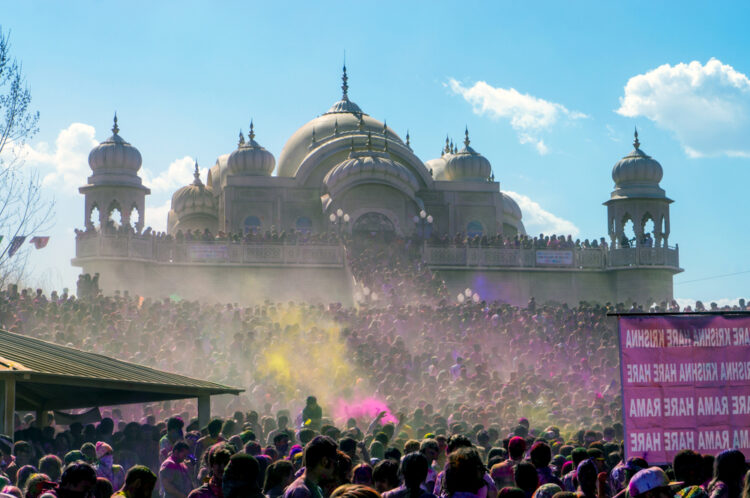 At Utah Valley Llamas, you can not only rent or lease llamas as pack animals for wilderness trips, but you (and the kids) can roam freely among them at the farm. In fact, these interesting animals will come right up to greet you, and to nibble on the snacks you're given to feed them. Kids are encouraged to feed them, brush them, and walk them, and their happy shouts will provide a memorable auditory backdrop.
After spending some time outside with the llamas, you can walk through the stunning Spanish Fork Krishna Temple. This magnificent white palace is an improbable piece of India in this Western town, with magnificent rugs and ornate marble or stone carvings; colorful Oriental paintings and statuettes; soft Indian music; an excellent Oriental restaurant; and even yoga and meditation classes for visitors.
But Utah Valley's nothing if not eclectic. So, also here in Spanish Fork, you'll find one of the great comic-book emporiums in America at The Dragons Keep.
Another popular place, in the town of Lehi, is a farm-, garden-, and museum complex called Thanksgiving Point. Here, the 50-acre Ashton Gardens section is filled with rolling greenery and the largest man-made waterfall in America. In the Butterfly Biosphere, families can get up-close and personal with thousands of brilliantly-hued butterflies (and some unique insects from around the world). The Farm Country section is an actual working farm, where the kids can mingle with animals, ride a pony and milk a cow.
Also at Thanksgiving Point, The Mountain America Museum of Ancient Life boasts one of the largest collections of mounted dinosaurs on Earth. And the interactive family exhibits at The Museum of Natural Curiosity will bring out the child in every adult.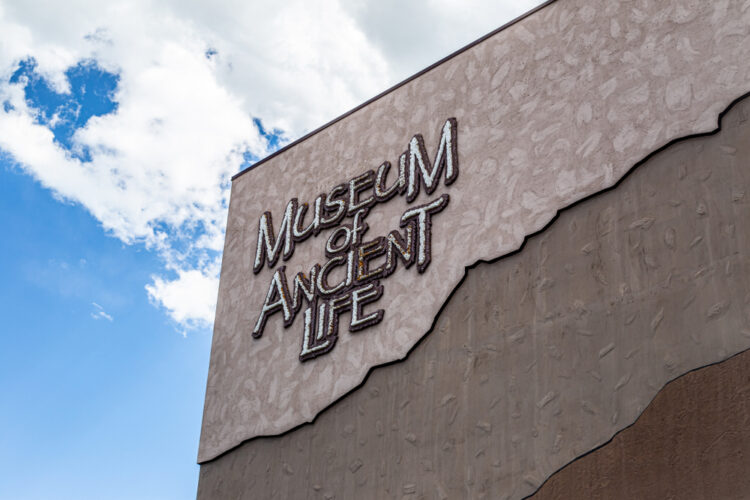 A few miles down the road from Lehi is the town of Pleasant Grove, with a special family spot of its own. Evermore is a "fantasy adventure" theme park with colorful characters and a choo-choo train.
In Provo, motorheads young and old will want to visit Petroliana Museum at Lakeside Storage, the largest museum of its kind in the U.S. Here you'll find colorful Americana such as antique cars and gas pumps; a bi-plane; a jet from a James Bond movie; a spectacular P-51 Mustang from World War II;  and old advertisements and oil cans.
BREATHTAKING NATURAL WONDERS
The highest points in Utah County are Mount Nebo (11,928') and Mount Timpanogos (11,750'). The lowest is Jordan Narrow at 4,490'. And in between are natural wonders that will – without exaggeration – take your breath away.
One of them is Bridal Veil Falls, cascading down Provo Canyon. And when you take the trail back down, walk to nearby Bridal Veil Falls Park for a picnic lunch on the tables or alongside the Provo River. And speaking of the river, if you're here from May through September, you can take a relaxing tube float on a tranquil stretch. Or, if you're looking for a more challenging trip, a raft or kayak through the rapids.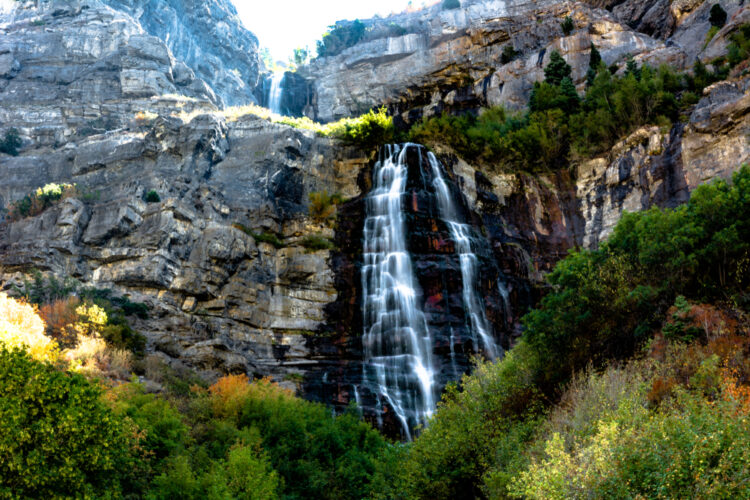 If you'd like to work up a sweat while viewing some of the most dramatic landscapes in Utah,  climb up the 7,760 feet to Timpanogos Cave National Monument in the summer. Here you'll ascend a steep 1.5-mile trail rising 1,100' to the three caves on top, and you'll want to stop often to take in the dramatic views of the Wasatch Range spread out before you. Then you'll have an experience – deep inside the caves – you'll remember for the rest of your life. You'll need a jacket (and maybe a sweater, too) inside the caves, where it's 45 degrees, and you'll be given a hard-hat on entry. Then you'll be escorted by a guide through the caverns to see brilliantly-colored, dramatic formations.
There are plenty of hiking and biking trails around Utah Valley, too. American Fork Canyon is known for biking, climbing, fishing, and hiking, and there's great mountain-biking in Rock Canyon. And as you might expect, the Valley is also great horseback-riding country!
Mount Nebo Loop Scenic Byway has been designated a National Scenic Byway by the Federal Government, for its dramatic alpine beauty. It's a winding road climbing 9,000 feet while crossing a National Forest, and passing numerous wildlife.
GREAT PLACES TO STAY
Sundance Mountain Resort is a world-class place to stay, as well as to play. And, yes, its authentic Western buildings and interiors bring to life the legend of Butch Cassidy and the Sundance Kid.
They also mirror the passion of the resort's creator – Robert Redford, who played the Sundance Kid in the immortal move. For example, one of the bars at this mountainous, wooded resort (with a river rushing through it) actually has the barstools of the bar at which the two outlaws drank in their Utah days of the late-1800's. Just imagine sidling up to the bar, Pardner, and plunkin' yourself onto one of those old barstools!
Guestrooms at Sundance are breathtaking, and faithfully replicating every detail (in a more-luxurious way!) of the Old West. The resort has a number of atmospheric restaurants, cold-weather sports like skiing and snow-boarding in winter, and a popular zip-line in summer. Also in summer are outdoor productions at Sundance Summer Theatre. And if you're lucky, you might also catch a glimpse of Robert Redford himself having dinner one night.
For another special type of lodging, Provo's the site of the picturesque Hines Mansion Bed & Breakfast, built in 1895.  Here, you're surrounded by Victorian/Western (the rage back in 1895) rather than pure-Western ambience, and the parlor is adorned by a marble fireplace. Breakfast features unusual gourmet items like strawberry-stuffed French Toast. And right outside your door are the very cool restaurants and shops of this interesting town.
After a visit to Utah Valley, you'll understand perfectly why local folks call it "Happy Valley."